Vehicle tracking GPS units are ideal for rental car companies. You don't always know who you are renting to but with vehicle tracking you can know exactly where they are.
Rental car companies can significantly benefit by using vehicle GPS tracking systems. GPS tracking for rental cars gives exact location, history, tow alert, and starter disable. With a click of a button, view all your rental vehicles on a single map.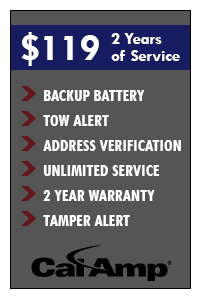 Rental car companies often have easier renter criteria to compete with larger chains. This sometimes includes renting without a credit card. These renters often pay higher rental rates but have higher risk. Car tracking units can lower that risk significantly.
Our tracking units include geo-fences. This will alert you if the vehicle goes out of a certain perimeter. For example, a 100 mile radius. Get an email or text alert from the car tracker that this area has been exited.
The car tracker includes starter interrupt. This feature allows you to disable the car from starting. Sometimes a customer might extend the rental without permission of the rental company. With a click of a button disable the vehicle from starting. This allows you to make arrangements with the renter or pick it up. This feature comes with all our car tracking devices.
Our GPS tracker for rental car companies also include a tow-alert. This will notify you if the car is being towed and where it ended up. Sometimes renters aren't familiar with the area and illegally park. The car gets towed and the renter has no idea where the vehicle is. This is a terrific feature that comes with our vehicle tracking devices.
Pricing for the car tracking units is simple. $119 includes 2-years of service.
Backup battery on the vehicle GPS tracker
Tow alert and impound lot notification
Easy to use website and phone APP
Starter disable on our car tracking units