The most reliable GPS tracking for title loan companies with starter disable and backup battery. Title loans offer huge rate of return with incredible interest rates. The problem is that most title loans have high risk customers. Losing just a few vehicles can hurt the portfolio margins. Protect the title loan portfolio with vehicle GPS tracking.
GPS tracking for cars gives your ability to track on demand and get an exact location. Once you login, see all your GPS tracker on one page. It makes it easy to monitor your assets in real time.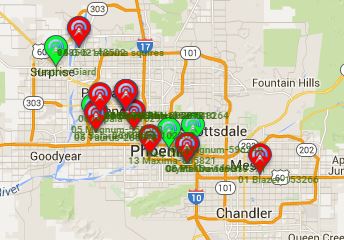 GPS tracking for title loans include a backup battery. This is important in case the vehicle loses power. Too many GPS tracking devices don't have a backup battery and when the car loses power, so does the device.
Another important feature on our vehicle tracking devices is a tow alert. A tow alert will notify the user via email or text if the vehicle gets towed. This is important for impounds and prevent mechanic liens.
The GPS tracker is a simple 2 wire hookup. It typically takes about 15-minutes. If unable to install a tracking device in the vehicle, we also offer a tiny cover battery powered unit. This can be placed anywhere in the car. The issue with using GPS tracking for title loans is the inability to install a tracking device quickly. That is why a battery powered unit is a great solution.
WHY USE GPS TRACKING FOR TITLE LOANS?
Increase cash flow

Faster and cheaper repossessions

Decrease collections

Decrease skip tracing

Less lost vehicles
We call our battery powered unit the T-1 mini. It has a self-contained battery with 2-year battery life. A built-in magnet allows for quick installation.
Title loan companies can reap the benefits of incredible high interest rates but also assume significant risk. While the risk-to-reward for the title loan makes the very high interest rate justified, it doesn't have to be this way. GPS tracking technology eliminates risk by tracking 24/7 and assisting in asset recovery.
Using GPS tracking systems give the ability to lend more money and offer loans you normally wouldn't approve. Tracking GPS technology is a great fit for any auto financing industry.