TRAILER TRACK GPS WITH 5-YEAR BATTERY LIFE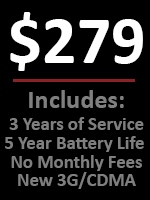 Trailer GPS tracking unit with a 5 year battery life. Reliable 3G/CDMA service on the Verizon network. This unit includes 3 years of service. It is built to handle any weather conditions. There are no monthly fees and no contracts. Protect and monitor your trailers with the tracking unit that was created and designed for long deployments. Free shipping and fast delivery.

THE #1 TRAILER GPS TRACKING UNIT WITH 5-YEAR BATTERY AND 3-YEARS OF SERVICE
OUR PRICE: $279.00
INCLUDES 3-YEARS OF TRACKING SERVICE
Suggested Retail: $395.00 – Buy Wholesale 

The Cal-Amp TTU-700 trailer GPS tracking unit is a must have to monitor and protect your trailer and heavy equipment.  This tracking unit has a battery life of 5-years and includes 3-years of service.  This is the most innovative GPS tracking unit for equipment available.  Our trailer tracking units are now on the Verizon 3G Network.   This device is utilized by Government Agencies and individuals protecting their assets.  The Trailer GPS unit is priced at $279 and that includes 3-years of service.  We never charge month fees.  This unit is on the Verizon 3G Network for the largest coverage possible.
The TTU-700 from CalAmp is a cost effective trailer tracking GPS device for managing assets that will be deployed for long periods without maintenance requirements. Its design is optimized for periodic location updates, rather than real time tracking.  This GPS tracking device is the best solution for tracking trailers and heavy equipment.  This rugged and waterproof trailer tracking device is wholesale priced at $279 and has a battery life of around 5-years.  Got Questions? Call us today direct at 800-578-1809
TOP COMPANIES USE TRAILER TRACKING GPS SYSTEMS WITH 5-YEAR BATTERY
Trucking and Trailer Business
Boat Trailer, Car Hauler, Mowers
RV, Construction Equipment
Motorcycle Cyle Trailers, Gas Tanks, Golf Carts, BBQ Smoker Trailer
Containers, Heavy Equipment
Grocery Stores, Food Transport
The TTU-700 is a battery operated non-rechargeable trailer track GPS product designed for reliable, multi-year deployments.   This is a must have trailer tracking unit for any size fleet.  Track your trailer with 3G / CDMCA GPS technology.
REQUEST MORE INFORMATION 
[formbuilder:5]

Key Benefits
5000 message cycles on fully charged battery pack
15 years with 0 messages until a final 30 min tracking session
7 years with single message cycle per day on fully charged battery pack
Superior Cellular and GPS quality
IP667 sealed and rugged enclosure
Built-in motion sensor
Highly Configurable
Built-in Cellular and GPS antenna for easy installation
Automatic, over-the-air configuration on power-up
Automatic, over-the-air firmware download
Simple, easy to use, diagnostic tools
Wholesale GPS Priced at $279
Competitive GPS Track Technology
Competitive Edge for GPS Trailer Tracking
The TTU-700 from CalAmp is a fully sealed battery operated asset tracking and communications device featuring a rugged enclosure, superior cellular and GPS performance and exceptional power management. The TTU-700 is designed to operation for up to 5000 messages cycles or 15 years without messages and a final 30 minute tracking session. With 1 message cycle a day, the TTU-700 will have an operational life of 7 years in the field. The battery pack is designed to be field replaceable to extend the working life of the TTU-700 to 14 years and provides best in class total ownership cost.
The sealed and rugged enclosure is designed to withstand the harshest outdoor environments and is made possible by superior internal antennas for both cellular and GPS. The TTU-700 takes power management to new levels with ultra-low sleep currents.
Flexibility
The TTU-700 employs CalAmp's industry leading on-board alert engine PEG (Programmable Event Generator). This advanced application monitors environmental conditions and supports customer defined exception-based rules to help meet the needs of your8 application, including power management. Customers can modify the behavior of the device to meet several applications before shipment or in the field. Combining affordability and device intelligence with your unique application provides the most flexible long lasting tracking device in its class.
Over-the-Air Serviceability
The TTU-700 also incorporates CalAmp's industry leading over-the-air device management and maintenance software, PULS (Programming, Update and Logistics System). Configuration parameters, PEG scripts, and firmware can all be updated over the air. PULS offers out-of-the-box, hands-free configuration and automatic post-installation upgrades. You can also monitor unit health status across your assets to quickly identify issues before they become expensive problems.
Size and Weight
2.25 x 2.25 x 10.5", (55x55x260mm)
32 Ounces, (907 g)
Batteries Pack Specifications
3.6 Volt, 57 amp hour, Lithium
Field replaceable
Certifications & Approvals
TTU-700 GPRS 5 YEAR NON -RECHARGABLE BATTERY OPERATED TRAILER TRACK GPS UNIT